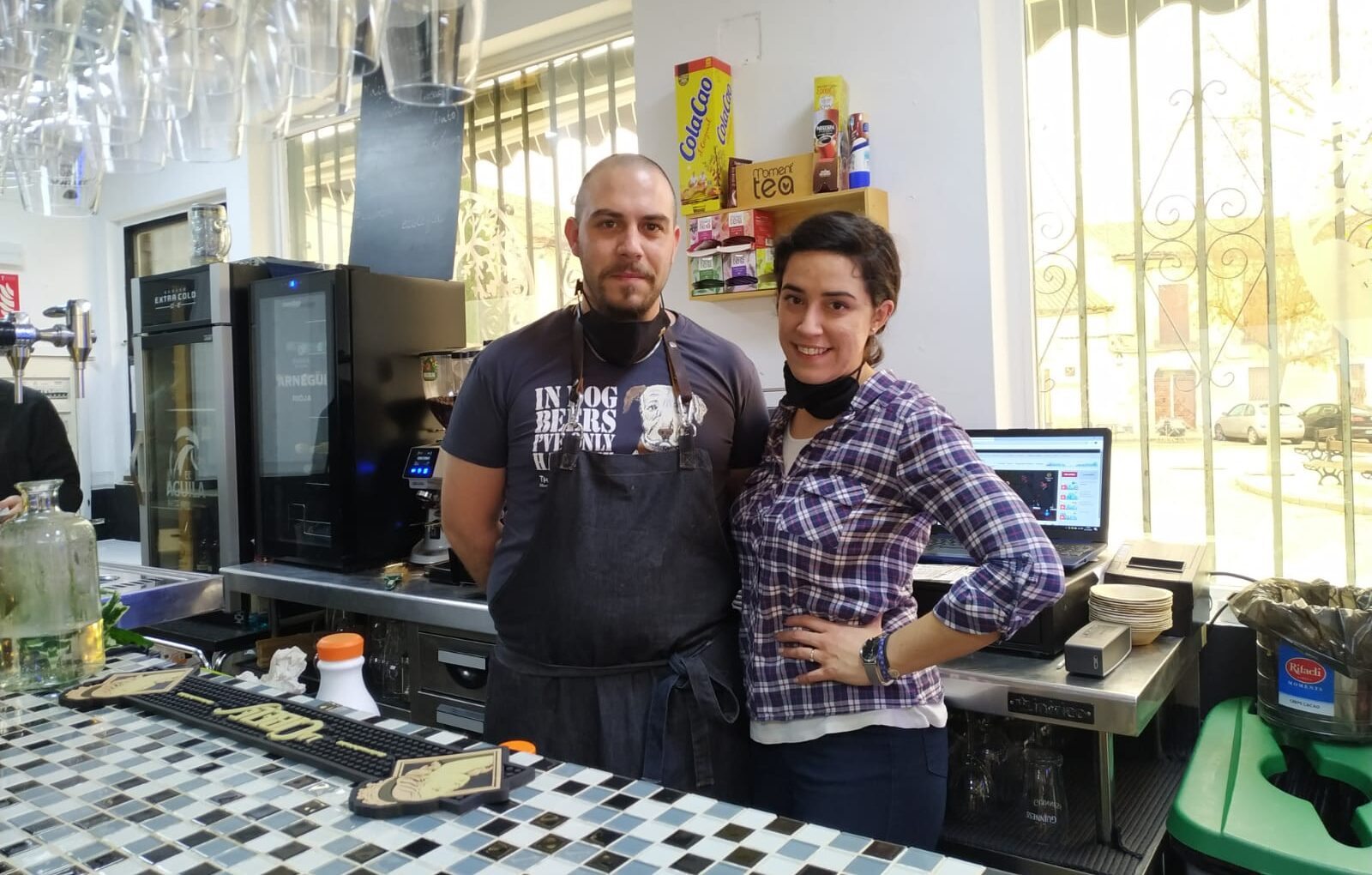 21 Jan

'Terra Gastro Taberna' is born in Casarrubuelos: taking care of the planet from the kitchen

The RAISE Youth Project is proud to present the 'Terra Gastro Taberna' – cafeteria-restaurant led by two young entrepreneurs from the area of La Sagra in Madrid, with training in haute cuisine and eager to make a name for themselves among the most original and successful restaurants in the area.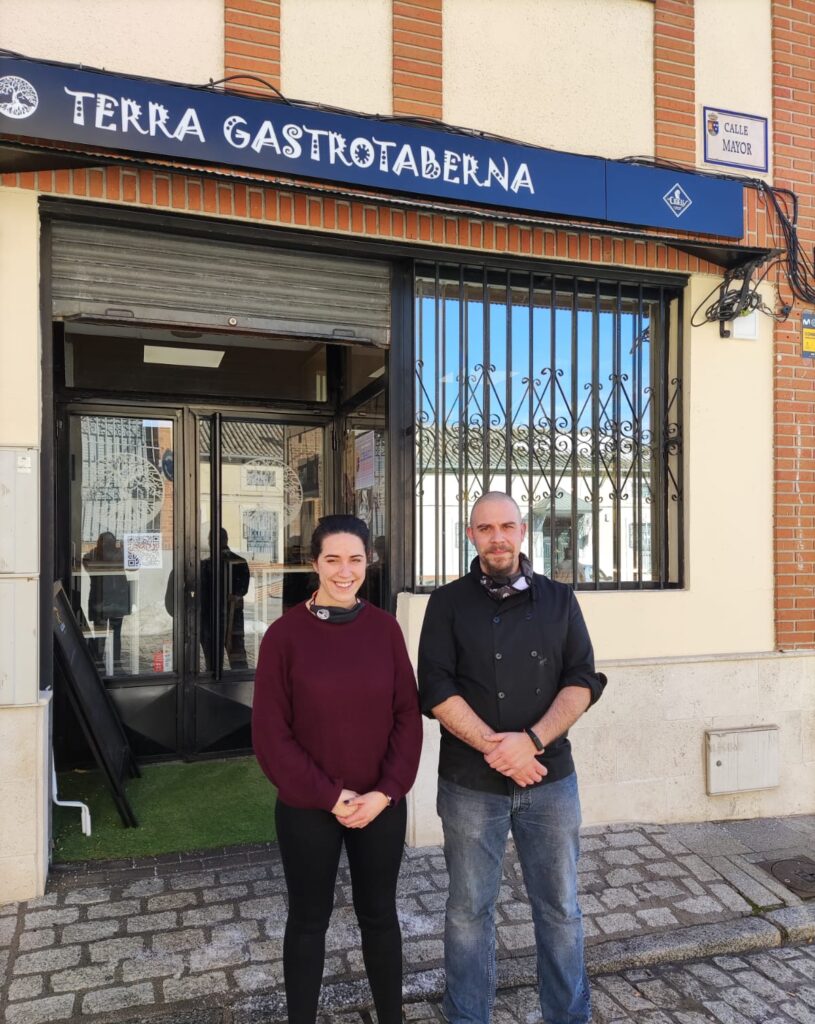 Eating is a pleasure… but it should also be an act of environmental responsibility. Nowadays, a sustainable way of understanding gastronomy and catering is becoming more and more important: restaurants that respect the natural environment, that take care of the origin of their food and the local commerce, recycle and separate waste, save energy and recycle materials, continuously train and value their workers, etc.
These conditions define sustainable restaurants, the next gastronomic revolution. Among them it is the "Terra Gastro Taberna" in Casarrubuelos.
Adriana and Rodrigo, are two young twins who, in addition to sharing family ties, share their passion for catering and cuisine, the environment and ecology. Therefore, with the aim of bringing to Casarrubuelos the best and most original gastronomic offer with organic and local products, they decided to undertake and open their own sustainable restaurant: the 'Terra Gastro Taberna'.
The idea is to promote the consumption of seasonal food from local producers, supporting the return to a sustainable agriculture based on the products of each season.  In addition, they also use local producers for their drinks:
– Offering a wide range of beers "La Cibeles": beer produced in Madrid.
– Marketing organic wine from the winery "Punta de Flecha Viticultura": a small wine project in the area of La Sagra in which local vineyards are being recovered.
Another product of quality and respect for the environment which they use and which characterizes their offer is their excellent coffee from sustainable cultivation: Natural Roasted Coffee in Gold Medal/Brasilia Kilimanjaro beans which, as well as being an excellent coffee, is collected by women at risk of social exclusion, to give them a job.
This new place introduces in the surrounding area to Casarrubuelos a new sustainable concept of cuisine, with dishes very creative, careful and elaborate -at the level of the best palates- to affordable prices. This is its key factor that differentiates this tavern and its cuisine from the majority of restaurants in the area. It is also the reason for being already gaining a loyal clientele -from many nearby municipalities-, who are delighted to try something different at good prices.
Moreover, this place is special, not only because of the quality of the product they offer, but also for the conception of its furniture and spaces: a careful and warm decoration defines them, made with recycled materials recovered from other uses (recycled tables, beer bottles converted into original candlesticks, boxes of products with decorative use, use of recycled table linen, etc.).
Their own location is also part of their sustainable purpose, as they are located in the village square of Casarrubuelos, in the heart of the historical center of the municipality, with the aim of helping to recover the traditional use of meeting of neighbours that has always been done in the village squares.
Furthermore, in the medium term, our young entrepreneurs also plan to provide small training courses to other young good cuisine lovers, with the aim of making their restaurant a space for training and exchanging culinary knowledge.
For all these reasons, from the very beginning, RAISE Youth Casarrubuelos has wanted to support these two young entrepreneurs in the exciting but also hard adventure they have embarked on. Accompanying them in the process of starting up their business, supporting them in the procedures, offering them training and establishing an intense collaboration between the "Terra Gastro Taberna" and the DEMO Center of Casarrubuelos, for the selective collection and recycling of all the organic material produced: a collection system perfectly replicable in other establishments.
Spanish_
Nace en Casarrubuelos la "Terra Gastro Taberna": cuidando el planeta desde la cocina
Contando con el apoyo del proyecto europeo RAISE Youth -proyecto pionero de emprendimiento verde e innovación social en España-implementado en nuestro país por el Ayuntamiento de Casarrubuelos, y con la cofinanciación del Fondo "EEA and Norway Grants", se ha inaugurado en Casarrubuelos la 'Terra Gastro Taberna': cafetería-restaurante capitaneado por dos jóvenes hermanos de la zona de La Sagra madrileña, con formación en alta cocina y muchas ganas de hacerse un hueco entre los restaurantes más originales y exitosos de la zona.
Adriana y Rodrigo, son dos jóvenes mellizos que, además de compartir lazos familiares, comparten su pasión por la restauración, el medio ambiente y la ecología. Por ello, con el objetivo de traer a Casarrubuelos la mejor y más original oferta gastronómica con productos ecológicos o de cercanía, decidieron emprender y abrir su propio local.
La idea es favorecer el consumo de alimentos de temporada de productores de la zona, apoyando la vuelta a una agricultura sostenible en base a los productos propios de cada temporada.  Además, también recurren a productores de la zona para sus bebidas:
Ofertando una amplia gama de cervezas "La Cibeles": cerveza de fabricación artesanal en Madrid.
Comercializando vino ecológico de la bodega "Punta de Flecha Viticultura": pequeño proyecto vitivinícola de la zona de La Sagra en la que se están recuperando viñedos locales.
Otro producto de calidad y respeto al medioambiente que utilizan y que caracteriza su oferta, es su excelente café de cultivo sostenible: Café Tostado Natural en grano Medalla de Oro/Brasilia Kilimanjaro que, además de ser un excelente café, es recolectado por mujeres en riesgo de exclusión social, para darles una salida laboral.
Por otro lado, la elaboración de sus platos es muy creativa y está a la altura de los mejores paladares, introduciendo en la zona sur de Madrid un concepto de local poco usual en la zona: con una oferta cuidada y elaborada en su cocina. Factor clave, que diferencia a esta taberna y a su cocina, de la mayoría de los bares y restaurantes de la zona. Estando ya haciéndose con una clientela fiel -procedentes de muchos municipios cercanos-, encantada de probar algo diferente a precios asequibles.
Además, este local es especial, no solo por lo referente a la calidad del producto que ofertan, sino también por la propia concepción de su mobiliario y espacios: una cuidada y cálida decoración les define, hecha con materiales reciclados y recuperados de otros usos (mesas recicladas, botellas de cervezas reconvertidas en originales a candelabros, cajas de productos con uso decorativo, uso de mantelería reciclada, etc.).
También su propia ubicación es parte de su propósito sostenible, pues están localizados en la plaza del pueblo de Casarrubuelos, en pleno centro histórico del municipio, con el objetivo de ayudar a recuperar el tradicional uso de reunión de vecinos que siempre se ha hecho en las plazas de los pueblos.
Además, a medio plazo, nuestros jóvenes emprendedores también tienen previsto realizar pequeñas formaciones a otros jóvenes amantes de la restauración, con el objetivo de hacer de su restaurante un espacio de formación e intercambio de conocimientos culinarios.
Por todo ello, desde el primer momento, RAISE Youth Casarrubuelos, ha querido apoyar a estos dos jóvenes emprendedores en la apasionante pero dura aventura en la que se han embarcado. Acompañándoles en el proceso de puesta en marcha de su negocio, apoyándoles en los trámites, ofreciéndoles formación y estableciendo una intensa colaboración entre la 'Terra Gastro Taberna" y el DEMO center de Casarrubuelos, para la recogida selectiva y reciclaje de toda la materia orgánica producida: sistema de recogida perfectamente replicable en otros establecimientos
El proyecto RAISE Youth pretende apoyar a jóvenes de 20 a 29 años en proyectos de emprendimiento e innovación social, ofreciéndoles capacitación y acompañamiento en sus proyectos a través de diferentes cursos, acciones formativas, eventos y/o actividades GRATUITAS, orientadas a potenciar la capacidad para el emprendimiento y el empleo de los jóvenes participantes.
Si deseas participar o conocer más información sobre el proyecto RAISE Youth en España, puedes escribirnos a raise@casarrubuelos.es, al WhatsApp +34 637 56 50 27 o rellenar el siguiente formulario online. También puedes seguirnos en Facebook, Instagram o Twitter.