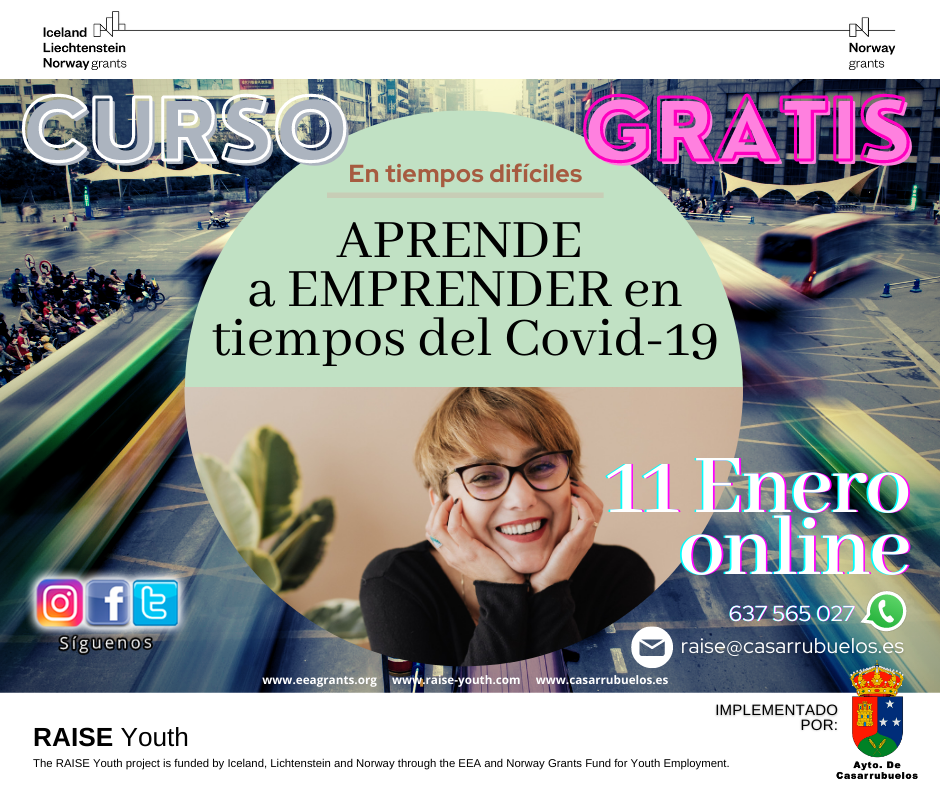 27 Jan

Entrepreneurship in Covid-19 time

On January 11th started our first course of "Entrepreneurship in Covid-19 time", a free online course that will help young people in Madrid and Toledo to improve their skills in entrepreneurship, analysing and also taking advantage of the possibility of creating new types of businesses that have brought to the scene a historical moment as we are living as a result of the Covid-19 pandemic. This course is planned to be repeated in the future.

The objectives of this ambitious and completed entrepreneurship programme for young people – similar to the one offered by many private business schools – are to discover and/or consolidate the entrepreneurial skills of the students, giving them tools to enhance their labour insertion, preparing them intensively for entrepreneurship and self-employment as professional options to be always valued, even more, in times of important changes such as the one we are currently living.

Crises, in any field, are opportunities for growth, of course also in the professional and labour areas. We must always be prepared to offer a differential value compared to the rest, but even more so in times of crisis. The experience and training obtained with this programme will be decisive for the development of the professional future of the young participants.

The students will receive intensive and professional training in 4 main subjects:
Aid and subsidies for entrepreneurship.
Business coaching.
Adjustments and economic solutions in the company.
Innovation and digitalisation of the business.
Teachers and professional consultants active in the business world (entrepreneurs, highly qualified consultants), who are graduates in different disciplines and who have extensive experience in teaching entrepreneurship are teaching this course. They will be a fundamental and decisive support to help the young participants decide to become entrepreneurs.
The European project RAISE Youth – pioneer project of social innovation in Spain -, it is intended to support young people between 20 and 29 years old in entrepreneurship and social innovation projects, offering them free training and accompaniment in their projects, aimed at enhancing the capacity for entrepreneurship and employment of the young participants.
Some upcoming courses in Casarrubuelos and surrounding rural areas are: '3D Printing' and 'Web design'. If you want to know more information about this in Casarrubuelos, please contact us at raise@casarrubuelos.es, filling this online form or in the WhatsApp +34 637 56 50 27. You also can follow us on Facebook, Instagram or Twitter.
Spanish version .-
El pasado 11 de enero dio comienzo nuestro primer curso de "Emprendimiento en tiempos del Covid-19", curso online gratuito que ayudará a jóvenes de Madrid y Toledo a mejorar sus competencias en materia de emprendimiento, analizando y aprovechando también las posibilidades de creación de nuevos tipos de negocios que ha traído a escena un momento histórico como el que estamos viviendo consecuencia de la pandemia Covid-19. Este curso está planteado para repetirse a futuro.
Los objetivos de este ambicioso y completo programa de emprendimiento para jóvenes -similar al que imparten muchas escuelas de negocios privadas- son descubrir y/o consolidar las capacidades para emprender de los alumnos, dándoles herramientas para potenciar su inserción laboral, preparándoles de forma intensiva para el emprendimiento y el autoempleo como opciones profesionales a valorar siempre, más aún en momentos de cambio importantes como el que estamos viviendo actualmente.
Las crisis, en cualquier ámbito, son oportunidades de crecimiento, por supuesto también en lo profesional y laboral. Siempre hay que estar preparados para ofrecer un valor diferencial frente al resto, pero mucho más aún en momentos de crisis. La experiencia y capacitación obtenida con este programa serán decisivas para el desarrollo del futuro profesional de los jóvenes participantes.
Los alumnos recibirán formación intensiva y profesional en 4 materias:
Ayudas y subvenciones al emprendimiento.
Coaching empresarial.
Ajustes y soluciones económicas en la empresa.
Innovación y Digitalización del negocio.
Esta formación será impartida por profesores y consultores profesionales en activo en el mundo empresarial (empresarios, consultores de alta cualificación), titulados en diferentes disciplinas y con una amplia experiencia en la docencia de emprendimiento. Siendo un apoyo y pilar fundamental para ayudar a los jóvenes participantes a decidirse a emprender.
Gracias al proyecto europeo RAISE Youth -proyecto pionero de innovación social en España-, se pretende apoyar a jóvenes de entre 20 y 29 años en proyectos de emprendimiento e innovación social, ofreciéndoles capacitación y acompañamiento en sus proyectos a través de diferentes cursos, acciones formativas, eventos y/o actividades GRATUITAS, orientadas a potenciar la capacidad para el emprendimiento y el empleo de los jóvenes participantes.
Próximos cursos en proceso de selección del alumnado: 'Impresión 3D' y 'Diseño web'. Si deseas participar o conocer más información sobre el proyecto RAISE Youth en España, puedes escribirnos a raise@casarrubuelos.es, al WhatsApp +34 637 56 50 27 o  rellenar el siguiente formulario online. También puedes seguirnos en Facebook, Instagram o Twitter.