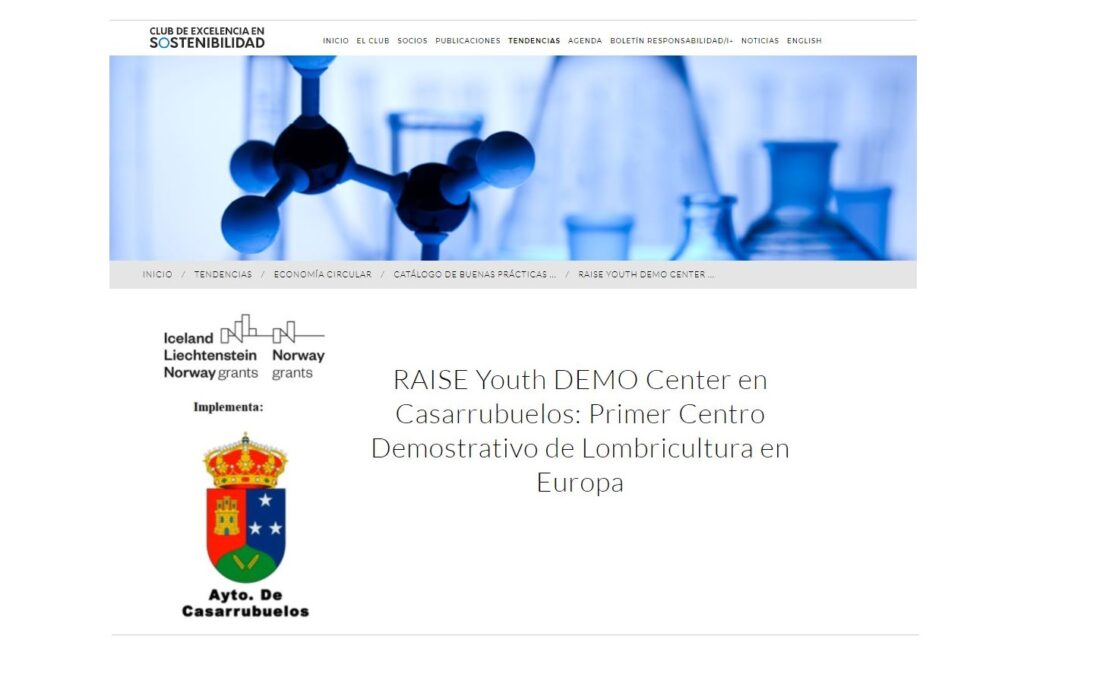 04 Apr

The RAISE Youth DEMO Center in Casarrubuelos joins the 'Club de Excelencia en Sostenibilidad' (Excellence in Sustainability Club in Spain)

The RAISE Youth DEMO Center in Casarrubuelos, First Demonstration Center of Vermiculture in Europe, has from now a space in the "Club de Excelencia en Sostenibilidad" (the Excellence in Sustainability Club), a prestigious business association in Spain that brings together large companies committed to sustainable growth from an economic, social and environmental point of view. The aim is to promote and publicise sustainable initiatives in these fields, being:
A forum for dialogue with stakeholders.
Benchmarking platform in Sustainable Development.
Transmitters of good practices in Corporate Responsibility to the Spanish business fabric.
Precisely due to the good practices and sustainable work done by the RAISE Youth DEMO Center of Casarrubuelos, this club has showed us as a reference in recycling through composting and vermicomposting techniques and as a collaborative space in green subjects and Circular Economy, with a surface of 2450m2 to promote experimentation and dissemination of innovative agro-environmental activities.
Being as well an open space where youths and other members of the community can collaborate to make up sustainable entrepreneurship ideas. Besides, our urban gardens are a perfect example of spaces worked by the community in a collaborative and sustainable way, not only to increase the production of vegetables harvested but also to exchange this production within the community.
This association also highlight our recycling process of the organic waste from the municipality of Casarrubuelos (Madrid – Spain). Through this recycling process, we not only dispose of this waste in a sustainable way, but we also give it a second life as organic fertiliser (worm humus) through a process that has a zero carbon footprint.
The MAIN OBJECTIVES of the 'Club de Excelencia en Sostenibilidad' are being:
Corporate Responsibility related events organization.
Share business experiences in Corporate Responsibility.
Provide specific training in the field of Corporate Responsibility.
Establish public-private relationships.
Public Awards and recognitions.
Project development.
Collaborate with associations and administrations.
Analysis of recommendations.
In addition, its MISSION is promoting sustainability in the business realm, sharing and spreading responsible business practices in order to contribute to excellence among companies and society's progress.