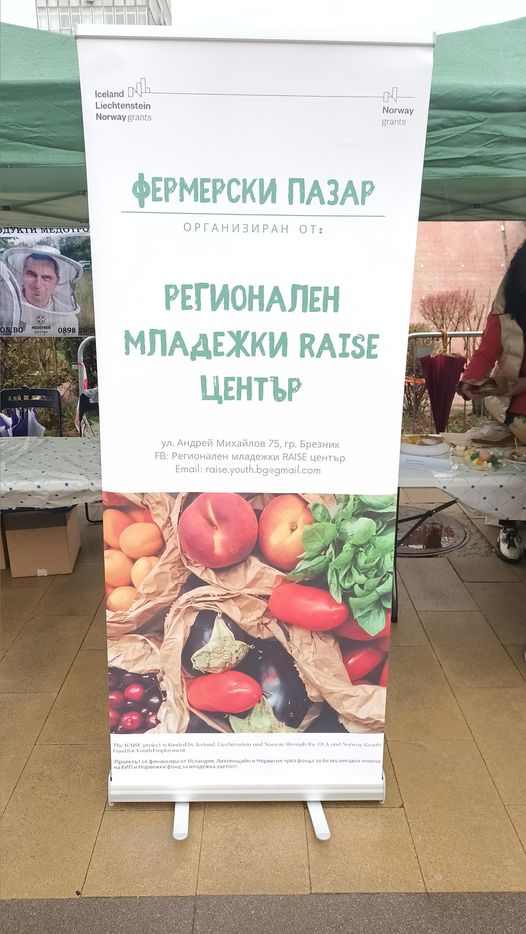 20 Apr

Local producers from Pernik District and Southwestern Bulgaria presented their goods during the second farmers' market, organized by the Regional Youth Raise Center (RYC) in Breznik and the Center for Sustainable Communities Development, Sofia

The Municipality of Pernik also helped to hold the event and included it in this year's Easter holiday poster.

Bad weather on April 17 – Palm Sunday didn't scare the residents and guests of Pernik to visit the market and buy from the rich assortment of natural products.

Among the exhibitors at the market were both wellknown people who participated in its first edition in Breznik, as well as new ones. Veronika and Tihomir – a young family of beekeepers from the Radomir region, whose personal cause is the supply of pure and natural products under the brand "Medotron" were part of the market for a first time.

Zhenya and Desi – two young, active and enterprising ladies, again from Radomir presented once again their creative studio "EcoEthnoArt" and their wonderful handmade Easter souvenirs.

Farmers from the Kyustendil region – Olga Gorcheva and Stoyan Sotirov – also exhibited fresh seasonal fruits and vegetables for sale. Especially for the farmers' market, they presented themselves with green salads, cucumbers, beans, walnuts, apples and fresh spices from their gardens in the village of Granitsa.

A new participant among the producers was Miroslav Borisov. His goods – homemade fruit syrups, vinegar, spices and honey – were also in demand by buyers.

Ivo and Kamen Sotirovi from the bee shop "KRAKRA MED" EOOD, as well as Vasilen Vassilev – a young producer of honey with his own apiary at the RYC Breznik also took part in the farmer's market.

The visitors of the Sunday event also enjoyed the jewelry, calendars and keychains made by the girls in the embroidery workshop "RAISE Graovo".

The most impressive for the passers-by was the authentic Graovo table, arranged by the women from the National Community Centre "Ivo Voyvoda 1928", Dolna Sekirna. The mayor of the village Bogomil Savov and the community centre secretary Milena Kalinova helped to arrange the dishes. Everyone who came to their table had the opportunity and the privilege to taste the delicious grandmother's goodies in combination with the special local rakia.

The Valkashin School of Traditional Martial Arts took care of the good mood of the youngest visitors to the farmers' market. They recreated the culture of medieval Bulgaria.

After the event, people from Pernik shared on social networks that they liked the initiative and will be more than happy to have a farmer's market regularly. According to them, this is a great opportunity to enjoy the products of local producers, as well as to support their production.