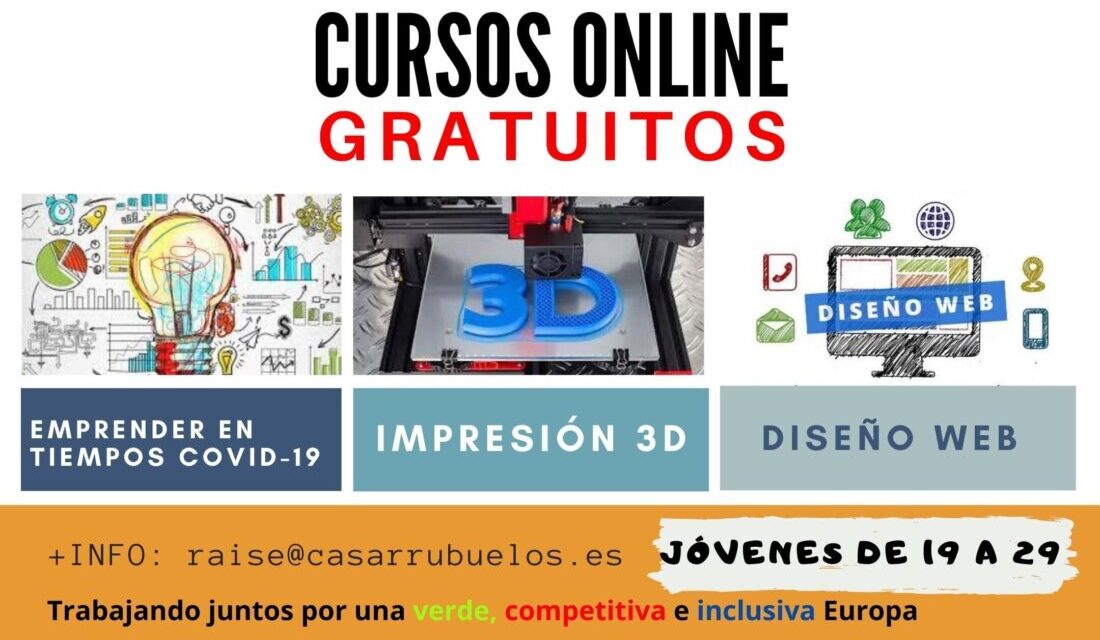 31 Jul

Free Courses for Youth – RAISE Youth Project in Casarrubuelos

At this time, Casarrubuelos City Council, through the RAISE Youth Project in Casarrubuelos, is conducting the open call and selection process of unemployed young people for its next three free online courses:
Web Design Course
3D Printing Course
"Entrepreneurship in COVID-19 time" course.
Courses will be online covering in this way the growing demand of online trainings by today's youth and also due to the Covid-19 circumstances.
The RAISE Youth Project in Casarrubuelos will help young people from rural and semi-rural areas near the municipality to carry out Innovative and Sustainable Entrepreneurship options.
If you are young (between 19 to 29 years old -preferred age group of 25 to 29 years old) and want to know more about the RAISE Youth Project in Casarrubuelos, please contact us at raise@casarrubuelos.es, or filling out the following form.
You can also support and learn more about this interesting youth initiative following our social networks Facebook, Instagram and Twitter.
Link: http://casarrubuelos.es/cursos-gratuitos-para-jovenes-proyecto-raise-youth-casarrubuelos/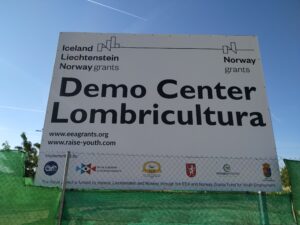 Cursos gratuitos para jóvenes – Proyecto RAISE Youth Casarrubuelos
El Ayuntamiento de Casarrubuelos está implantando importante proyecto europeo para facilitar que jóvenes desempleados de entre 19 y 29 años desarrollen sus capacidades para el empleo y el emprendimiento en el marco de la economía verde.
En este proyecto – RAISE Youth Project– participan entidades de Bulgaria, Croacia, Rumanía y España, que cuentan con un presupuesto de 3.663.913 euros cofinanciados en un 85 por ciento por Islandia, Liechtenstein y Noruega, a través de los  EEA and Norways Grants, en el marco del Espacio Económico Europeo.
El Proyecto RAISE Youth permitirá al Ayuntamiento de Casarrubuelos disponer de 455.182 euros para "realizar actuaciones orientadas principalmente a promover el empleo verde de la población joven, incluyendo también a las mujeres desempleadas y emprendedoras como destinatarios".
Dentro de estas actuaciones, se está implantando en Casarrubuelos el Primer Centro Demostrativo de Lombricultura en Europa, lo que supondrá el reciclaje de la mayor parte de la basura orgánica generada en el municipio. Además de situar a Casarrubuelos como un municipio innovador en materia de economía circular tanto a nivel nacional como europeo.
También se están llevando a cabo sesiones de trabajo, cursos y formaciones con jóvenes del municipio y de áreas cercanas.
Cursos online gratuitos
En este momento el Ayuntamiento de Casarrubuelos, a través del proyecto RAISE Youth en Casarrubuelos, está realizando las convocatorias y procesos de selección de jóvenes para sus tres próximos cursos online gratuitos:
Curso de «Diseño Web»,
Curso de «Impresión 3D»
Curso de «Emprendimiento en tiempos de COVID-19».
El Proyecto RAISE Youth en Casarrubuelos ayudará a formarse para el emprendimiento y un mejor empleo a jóvenes de áreas rurales y semi-rurales cercanas al municipio. Si eres joven de entre 19 a 29 años (grupo de edad preferente de 25 a 29 años) y quieres conocer más información sobre el Proyecto RAISE Youth en Casarrubuelos escríbenos a raise@casarrubuelos.es, o rellena el siguiente formulario.
Anímate a apoyar y conocer esta interesante iniciativa juvenil y síguenos en  las redes sociales del Proyecto RAISE Youth en Casarrubuelos Facebook, Instagram y Twitter.